India is a vibrant country to travel, you might get confused if you surf on for the list of destinations to visit in India – there are hill stations, beaches, valley, treks for hikers, food, culture, art, traditions and alot more that would be fascinating enough to leave you awestruck. Most people either prefer to visit the mountains whereas some prefer beaches – for mountain lovers one of the prime and prefered destinations is Mount Abu. Mount Abu is a small hill station in the provinces of Rajasthan and is always flushed with a large number of travellers and localities who keep on visiting the place for small outings or mini vacations. The atmosphere around the city is so calm and blissful that one will definitely be able to relax their mind and reconnect their souls to nature.
Mount Abu is one such place that has something for everyone, those who love history can go for the excursion to the temples, remains of fort that has very fine and intrigued style of architecture to study – nakki lake to enjoy boating and zorbing – heritage resorts to book for a lavish yet budgeted accommodation – one can enjoy watching sunsets and click as many pictures as they want to. One such fine family heritage house is Krishna Niwas, found in the year 1924 by britishers as a vacation house in the city the place is now been widely used as heritage stay for travellers who want to experience a home stay, far away from the lousy cities and hotel where they don't feel comfortable like home.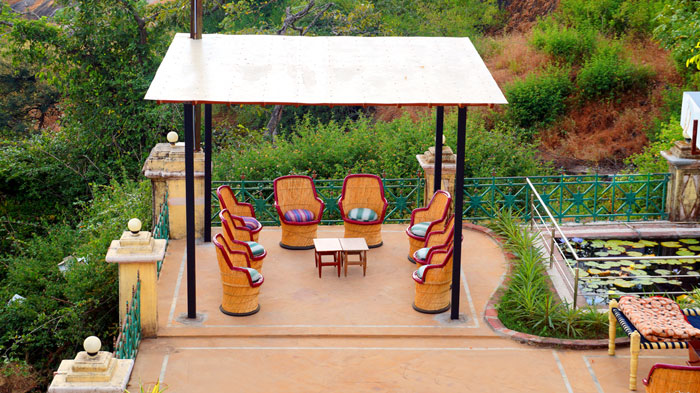 Krishna Niwas Mount Abu is one of the best heritage houses that is totally ideal for family, couples, friends, business colleagues, solo travellers and other people who strictly prefer to stay in property that has pure vegetarian restaurant and prohibits the consumption of alcohol to avoid the nuisance at property. We have very limited rooms at our property which are categorised into divisions on the basis of room ize, occupancy capacity, view from the rooms and even in the terms of inclusions of amenities and facilities. We have spacious green lawns that have sitting arrangements for guests to enjoy evening tea or enjoy soaking sun in winter afternoons, a playground for childrens so that they could enjoy slides-swings with their friends or siblings and terrace to enjoy evening walk while watching the sunset.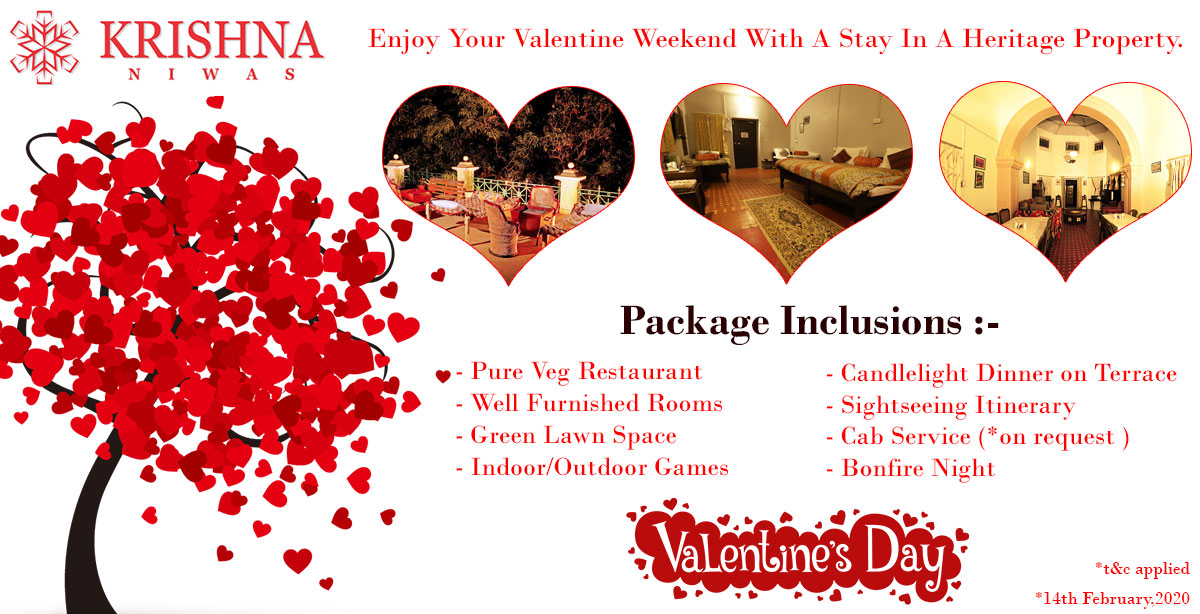 Mount Abu is most of the time flocked with a large number of travellers and to make each guest have a different experience – we offer special festive, seasonal, weekends and weekdays packages so that they could enjoy a lavish stay at an affordable price in a ritzy heritage home. For those who are planning for a february visit, we have  a special valentine's day offer going on which will include romantic candlelight dinner, different indulging indoor outdoor games, terrace to sit out and have a conversation in the midst of nature with silence around. You can also go sightseeing to Nakki Lake to enjoy boat rides, nearby markets to shop antiques, temples to seek blessings and some historic monuments to know the facts and history of the area.
To know more about our heritage property, you can visit our website and to confirm your bookings you can drop us an email with your check in – check out dates. To stay updated with our new offers and packages, you can follow us on our social media links. Plan a special valentine weekend soon for your special one and give them a memorable vacation.