Krishna Niwas Mount Abu is the most renowned heritage villa in the list of top 10 hotel in Mount Abu that every year organizes a new year party events in Mount Abu for travellers who are willing to have a budget vacation with their dear ones at the end of the year. Mount Abu is a popular hill station amongst the crowd in Gujarat and Rajasthan as it's green and peaceful, the place has so many things to do and places to visit that people from nearby keep on travelling and exploring for a peaceful quality time. Our resort is at a close distance of within 1 kilometers from the famous Nakki Lake where tourists go for local shopping and boating in the lake with dear ones and can try local food dishes and delicacies served with hygienity.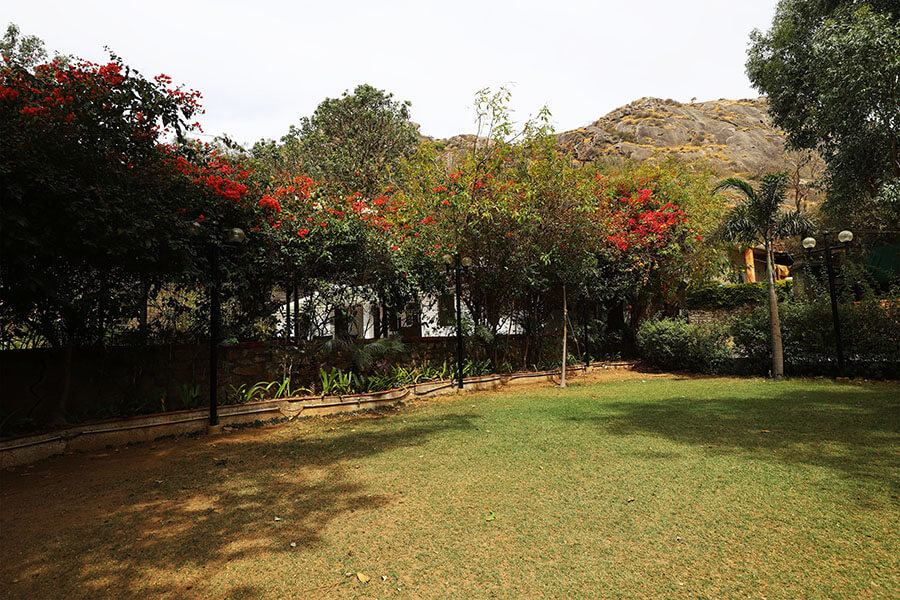 December is the most pleasant season to visit the place and Krishna Niwas Mount Abu is the most prominent new year 2020 party destination in Mount Abu to book for a luxurious yet budgeted stay in a hotel near nakki lake that resembles an ideal image of a heritage resort. The resort is on a higher altitude location and is nestled in the midst of green mountains with a big lawn space to sit around, playground for kids to spend their afternoons playing with their friends, indoor – outdoor game setup area for adults and a multi cuisine restaurant that serves the best delicacies as per the taste of every guest. The property is years old and portrays a historic interior with old antiques and british architectural touch on walls in rooms and restaurant – so it's the most idiolic place for travellers who seek for a lavish home stay in some heritage place that holds an epic history of kings and queens.
Every year we offer an amazing package for new year celebration in Mount Abu and offer an amazing budget 2 nights and 3 days package to travellers to celebrate new year in Mount abu with their friends, family, loved ones and colleagues. The resort is ideal for families, honeymoon couples, senior citizens, a group of friends and business colleagues as the place has a pure vegetarian food serving restaurant and a strict rule against alcohol consumption to avoid an environ disturbing havoc. The resort is so peaceful and quiet that one can just connect to nature and hear the heart beats that got avoided in louse city shores – the sitting arrangement in the garden and on the terrace is blissful and spacious that you can sit all day with palate of snacks and chat sessions with your better halves.
The rate of package is in budget to confirm a hotel booking in Mount abu at the time of winters when everyone is in the city for celebrating new year party 2020 in Mount Abu with their near and dear ones – you will not get one such fine package from anywhere else at this time of year. The package that we are offering is specially for 30 and 31 december, 2019 – the package inclusions are as follows :- stay in Ac rooms ( mostly AC is not required in this season but if in case someone wants to use ) ; breakfast and dinner on both days in the restaurant and a special dinner arrangement on request with bonfire can also be made. On New Year's Eve gala dinner party is hosted which will include DJ night, buffet dinner with bonfire, cake cutting, outdoor games and a countdown for midnight last stroke for the year 2019. We assure to add charm in your last evening of the year 2019 that will end up with good happy memories and welcome the New Year with hopes of new achievements and success.
Before it gets sold out for the year – confirm your bookings soon with the highly preferred family hotel in Mount Abu that hold a remarkable reputation amongst heritage hotels that offer budget Mount Abu hotel packages for travelers so that everyone can enjoy the blissful feeling of staying in a luxurious abode under a price that is comfortable for them. We will make your new year so exciting and happening that you will remember it forever and return back home with a bag of memories and quality moment where you would have completely relaxed you state of mind and soul. For more details regarding the rooms and pictures of resort you can visit our website for details regarding the package you can drop us your email with your check in – check out dates on our email id that is mentioned on the contact page of the website. Hope you will join us for the New Year celebration with us in Mount Abu.