Krishna Niwas the Heritage House, one of the most relaxing luxury hotels in Mount Abu, with the awesome combination of fantastic location and warm ambience, which defines the luxury and leisure available there. This place was a vacation house of Madame Elizabeth Sharpe of the East India Company and is one of the best among 52 Kothis in Mt Abu in terms of location, view from the place and architecture. This place is restored to its originality by Acharya Maharaj Shri Devendraprasajis son Shri Raghvendraprasadji Maharaj and put open to the interested visitors in search of Peace of mind and a home away from home. They are keen to host guest who appreciate Heritage and peaceful environment.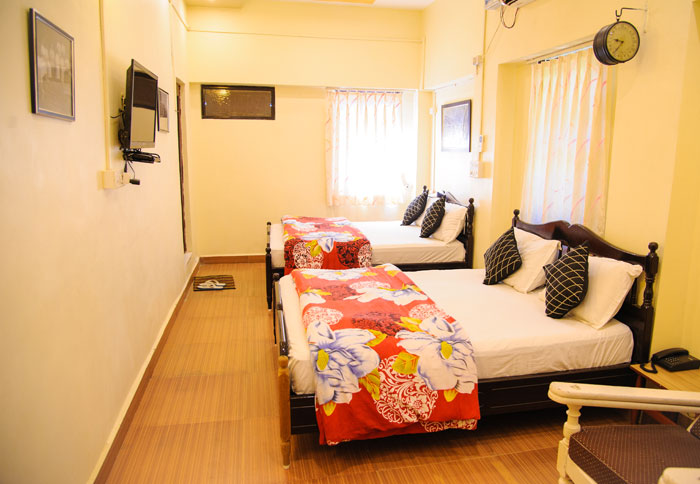 And with this it has raised the bar of lavishness and comfort, and sent it to a new level all together, keeping the higher rank among top family hotel in Mount Abu The wide varieties of ultra luxurious amenities are available for visitors including family, friends, and couples to enjoy the unparalleled beauty of Indian colonial style architecture and royalty. Located in the heart of Mount Abu, near Nakki lake and local market; Krishna Niwas the Heritage House offers you the warmth, impeccable service and everything else that one would be wishing to have on the vacation trip.  Hotel Krishna Niwas the Heritage House is so comfortable, cozy and relaxing that after time spent outdoors in and around Mount Abu, you can refresh yourself with a nice rest in your relaxing holidays. Calm and soothing ambience would definitely make you stay there again and again whenever you will plan a trip to Mount Abu.
You will feel like a home away from home with the warm amenities, ambience and homely taste food made in the hotel's own restaurant. Because they have tried hard to meet the hospitality standard high, keeping the heritage intact and making it one of the top heritage hotel in Mount Abu. Krishna Niwas Heritage House, one of the best hotel near Nakki Lake in Mount Abu to chose from, for a luxurious and memorable vacation days with your friends, family or loved ones.
The wide choice of residential accommodation like a hotel and the tranquil ambience of the resort make it a great place to enjoy a relaxing holiday in the company of your loved ones, making it one of the top hotel in Mount Abu. There are 10 well appointed A/C rooms – 4 Deluxe, 2 Super Deluxe & 4 Family Rooms, each room is unique and of different size accommodating anywhere between 2 to 5 adults. No two rooms, even of same category are similar so we sincerely request not to compare one room with another. All rooms are located in different area and on different floor and have its own charm.